When it comes to garden mulcher hire, there can be a lot to consider. Firstly, how big is the job and how long would you require the mulcher for? Secondly, what do you look for when considering a hiring firm? Is there a list of dos and don'ts? Well, in short, yes – there are a few things you should consider. In fact, have you considered buying rather than hiring? We're going to run through this and so much more, read on to find out our top 5 things to consider when hiring a machine. If you want to look at purchasing one – check out our range mulcher range here.
Table of Contents
Proximity
The first, and arguably the most important thing to consider is the proximity of the mulcher hire depot. It goes without saying but the closer you are to the hire depot, the more time you get on the job. Likewise, the transportation and logistics of a machine can eat into the profitability of a job. The more you have to travel, the more petrol it takes while meaning you have less time on the clock – all of which eats profits.
Mulcher Hire: Age
They say things improve with age, and while that's true for most things – it isn't for machinery. We'd always recommend discussing the age of the machine, and if it's more expensive for a newer machine – pay it. Because while renting an older machine may be cheaper in the short term, once you factor in repairs, fuel and maintenance – it adds up. Get ahead of those issues by going for a newer mulcher hire. Look for machines between 2-3 years old at most.
Delivery
Do you want your mulcher to hire delivered? If so, it's important to consider how long will date. Before agreeing to any hire, establish a delivery & collection date with the hire firm. Moreover, some hire companies offer same-day or next-day delivery service – are these important to you?
Mulcher Hire: Availability
A golden rule for mulcher hire is to consider the availability of their machines. If possible, you'd want them to have all of the machines required in one place. Consequently, this saves you time and effort stressing over dealing with multiple hiring firms. Time spend researching this now, will save you time on the job later.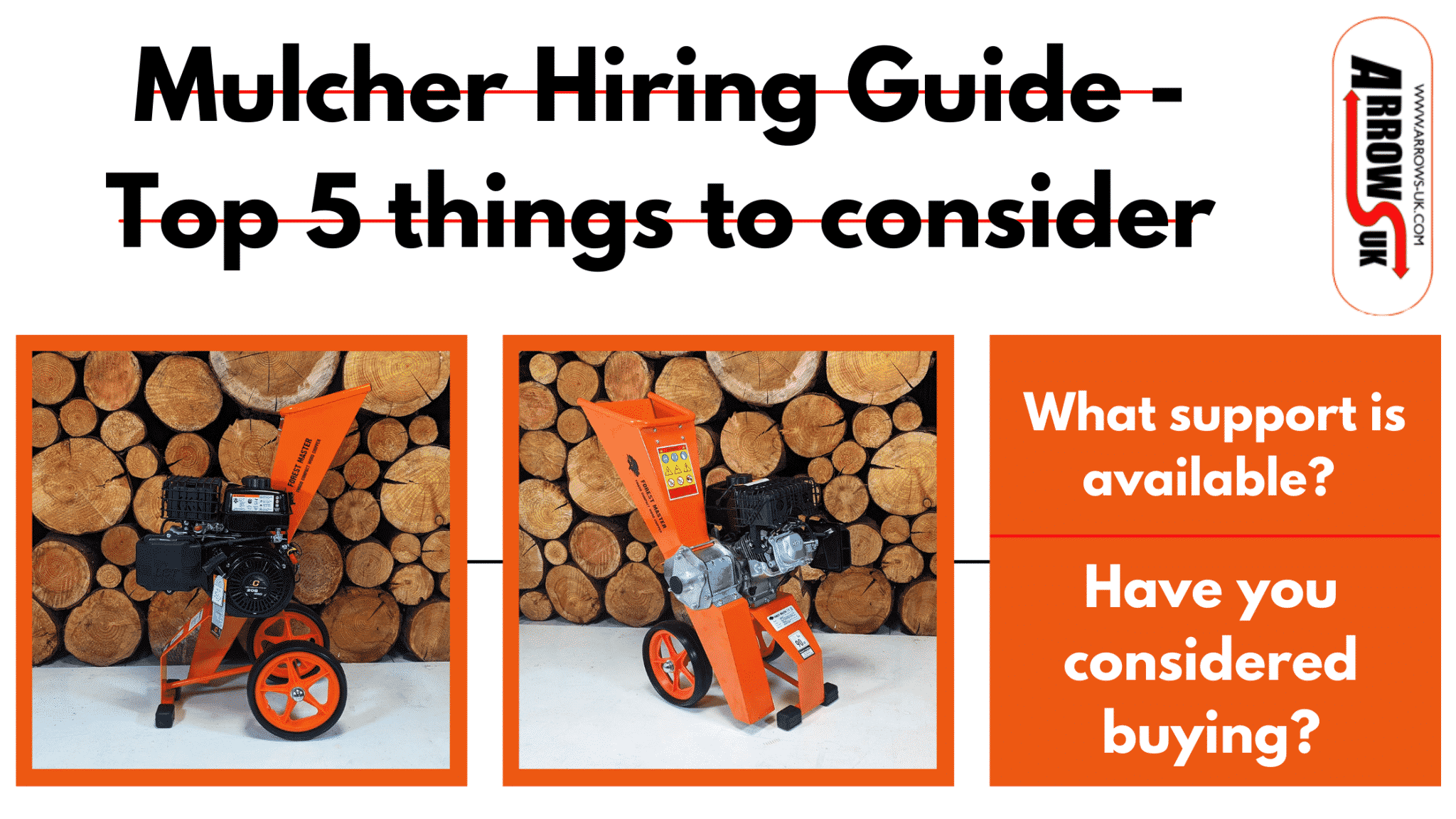 What support is available?
It's important to plan for rainy days, why? Well, if your machine were to break down – would you know how to fix it? Nonetheless, you'd want a hire firm with expertise in these machines. Skilled engineers can easily repair these machines which would save you valuable time on the job. Imagine, you've hired the machine, got halfway through the job and it breaks down. Worse yet, no one at the hire firm knows how to fix it. You're stuck with an ornament you've hired and a job you can't complete. Looking into this beforehand will ensure if the worst were to happen, at least you're covered.
Have you considered purchasing one?
Here at Arrows, we offer a range of machinery to suit all your needs. Better yet, all come with expert support and lifetime technical advice. Why worry about mulcher hire, when you could just own it? Here at Arrows-UK, we stock the market-leading, innovative 3-in-1 Forest Master 6hp Chipper, Shredder and Mulcher. Consider this, the cost of hiring a mulcher can be £84 p/day (inc vat) – in just over a week it's paid for itself. Chip, Mulch and Shred with ease. With a massive 6hp engine producing an unmatched 3600 rpm – this baby's got you covered. Wanting to treat your dad to a gift he'll never forget – check out our gift guide here. As you can tell, we think Forest Master's 3-in-1 machine is the best on the market, want to find out more? We've got a whole blog post about it here.